Summary: Morris Trucking and Excavating / Heavy Equipment Rental
GEO: Simcoe, Ontario / Norfolk Ontario
Dated: July 20th 2017
Heavy Equipment Rental / Operator Rentals: Simcoe, Ontario
The Simcoe, Ontario based excavating and equipment rental company known as Morris Trucking and Excavating is pleased to reaffirm their dedication to the Simcoe and Norfolk County area.
The adaptable excavating company has been servicing Norfolk, Haldimand, Oxford, and Brant Counties for over 40 years since the founder, Chuck Morris, started the company with little more than a tri-axle dump truck and a solid work ethic.
From humble beginnings in the 1970's, the local excavating and dump truck rental service has evolved to offer not just heavy equipment rentals to Simcoe and area, but also operator rentals, and added equipment options to suit a variety of industry and private needs.
Heavy Equipment and Operators On-Hand:
At the current time, there are many home construction projects deployed in Norfolk County. This has placed heavy demand on excavating services and truck rentals for lot services such as foundation digging, lot leveling, and brush/clutter clean up. This is especially in higher demand in the Allan Dale area of Simcoe, where the suburban expansion is encroaching upon a pine forest area.
Summary of Services:
Excavating / excavator rentals
Front loader rentals
Bobcat rentals
Dump truck *(various sizes) rentals
Backhoe rentals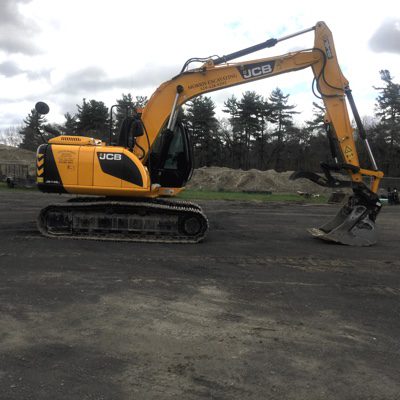 County / Town / Municipal Contracting
Morris Trucking and Excavating assists the local county officials in Norfolk, Brant, Oxford and Haldimand with municipal projects such water main, sewer system installation, and other subterranean digging contracts. Emergency services also are available in cases where water mains have burst due to weather or decay.
Reference: Norfolk County Website
Recently, Morris Trucking and Excavating assisted Norfolk County officials in Port Rowan where a water main that was installed in the 1990's had corroded to the point of having a large opening erupt. This was an emergency, to which Morris Trucking responded rapidly to the needs of the community.
Another recent municipal project required the need of excavators, dump trucks, and front loaders to be present for the excavation of a new water main to be installed in Simcoe, Ontario, on West Street. This upgrade to the town's water infrastructure is part of crucial expansion plans and upgrade projects in Simcoe.
A Long History of Equipment Rentals
40 years is a long time for any local company to stay in business. For Morris Trucking and Excavating, it's been a family affair, with Jesse Morris taking over primary control of the equipment rental service in 1992 from father and founder Chuck Morris.
The work ethic of 'work hard, and work long' has been a family motto for the Park Road company, and you can see it displayed in project after project in Southern Ontario.
If you are a private home owner, a home builder, contractor, or a county administrator and you have need for local excavating service or heavy equipment rentals (such as front loaders, dump trucks etc), please consider contacting Jesse or Dorris Morris. They would be happy to provide an estimate, quote, or tender for the potential project.
Contact Information
Morris Trucking and Excavating
95 Park Road, Simcoe, Ontario
519-428-9292
https://morrisexcavating.ca